Gala Benefit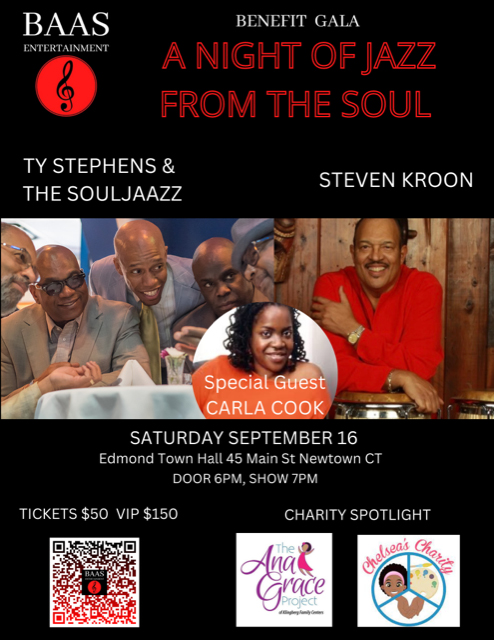 Saturday, September 16, 2023
BAAS Entertainment Gala Benefit
Edmond Town Hall
45 Main Street
Newtown, CT
Tickets: $50 / $150 (VIP)
BAAS Entertainment is known worldwide for highlighting the best in independent soul, jazz and R&B. Join us on Saturday, September 16, 2023 as we showcase three of jazz music's most impeccable artists for two incredible causes.
VIP Tickets $150 includes upfront seating, plus a pre-show VIP reception (artist meet and greet, hors d'oeuvres, beverages, and an incredible swag bag full of goodies).
Other tickets are only $50.
Hotel Information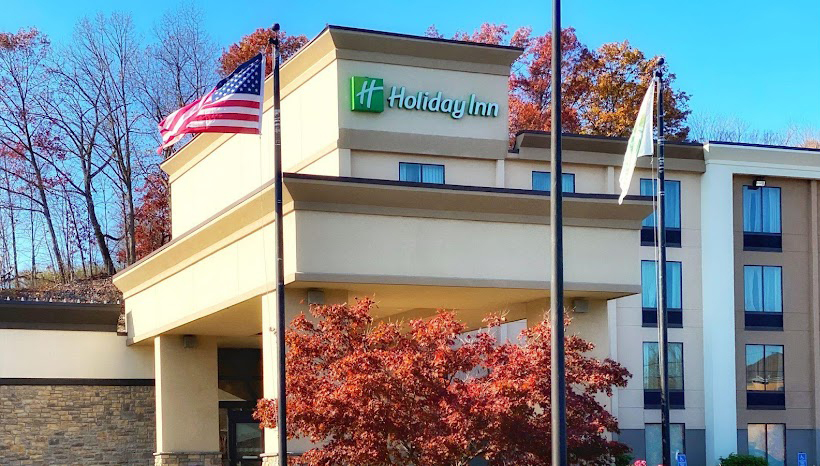 For everyone that doesn't want to rush back home after the gala, the Holiday Inn of Danbury, CT is offering rooms at a special discounted rate of $125 per night for everyone who is attending the BAAS Entertainment Gala. Call the hotel directly at 203-792-4000 and tell them that you are attending the BAAS Entertainment Gala to receive the discounted rate.
Our Incredible Artist Line-up
Steven Kroon has been a professional percussionist for over 50 years. He has worked with such notables as the late great Luther Vandross (1981-2001). He appeared on seven platinum albums, fifteen world tours, an array of television performances from the Tonight Show, to David Letterman, as well as the Grammys. Steve also performed with the legendary Ron Carter from 1987-2004 and has recorded with a Who's Who's in popular music such as Aretha Franklin, Roberta Flack, Diana Krall, Stanley Turrentine, Bette Midler, Tony Bennett and Lady Gaga, just to name a few. More recently, Steve has been turning out a catalog of incredible jazz albums with a Latin flair that is uniquely all his own. He and has appeared worldwide and several times here in Connecticut. Come see this master at work.
Ty Stephens is an award-winning singer/songwriter, entertainer and recording artist that can do it all. Over the past 20 years Ty has won several awards, not only for his songwriting skills, but for his choreography as well. He has appeared on Broadway in the original productions of "Sophisticated Ladies" and "Marilyn: An American Fable". He has recorded with industry legends Harry Belafonte, Peggy Lee, Dan Hartman, Nile Rogers, Chuck Mangione, Gwen McCrae and The First Lady of Def Jam Alyson Williams, among others. He and his band SoulJaazz are known all over the world and have opened for acclaimed acts as Celine Dion, Diana Ross, Carlos Santana, Liza Minelli, Stevie Wonder, Eric Clapton, Norah Jones, Elton John, Larry Coryell and Vanessa Rubin. Talk about diverse! Ty is definitely a show stopper and one you don't want to miss.
Special Guest: Carla Cook: has been influenced by the jazz vocal masters but equally influenced by phenomenal instrumentalists like Miles Davis, Wes Montgomery and The Crusaders. The Detroit native also finds inspiration in R&B, Motown, pop, gospel and country music. As a result, Carla has an improvisational style that's steeped in the swing tradition yet eclectic and brimming with fresh interpretations.
Our Wonderful Charities
All of these incredible artists have come together to not only perform one hell of a show for you, but to support two wonderful causes:
Chelsea's Charity
Chelsea is a young philanthropist (currently only 14 years old) who realized that art can uplift spirits. So she started this Chelsea's Charity to provide art supplies and art lessons to children and so much more; not only in Connecticut, but nation wide. Together we can support children's social-emotional and mental health development thru art.
The Ana Grace Project
The "Love Wins" movement of The Ana Grace Project recognizes that all children/families have stories and every story has value. We believe that all children and families can succeed with proper supports – and healthy relational networks are essential. Through our partner schools, professional development, and music/arts initiatives, The Ana Grace Project reaches thousands of children, families, and providers in education, medicine, mental health/social services, and the private sector.